My AirPod Pro Replacement Fiasco
Detailing my experience simply trying to replace a missing AirPod Pro bud and how bad Apple Support has gotten.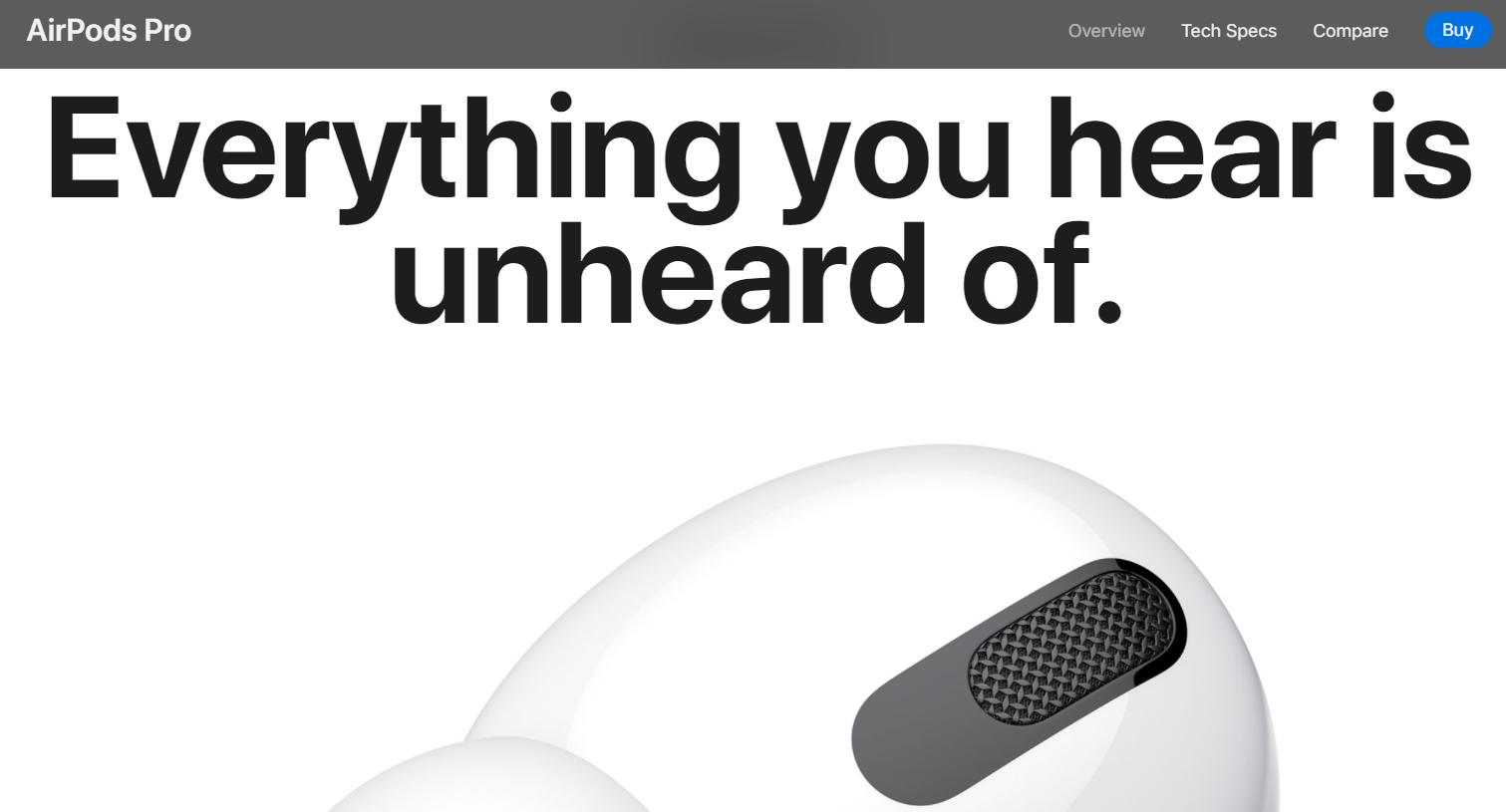 November 17
Order replacement AirPod Pro bud for $96.
December 2
Replacement AirPod Pro bud arrives, does not pair with other bud. Do basic troubleshooting, contact Apple via chat, and then speak with Apple via phone. Apple representative claims it is a problem with the case, phone agent says he will ship me a replacement case and I can return old one. I am suspicious it is an issue with the case but go along.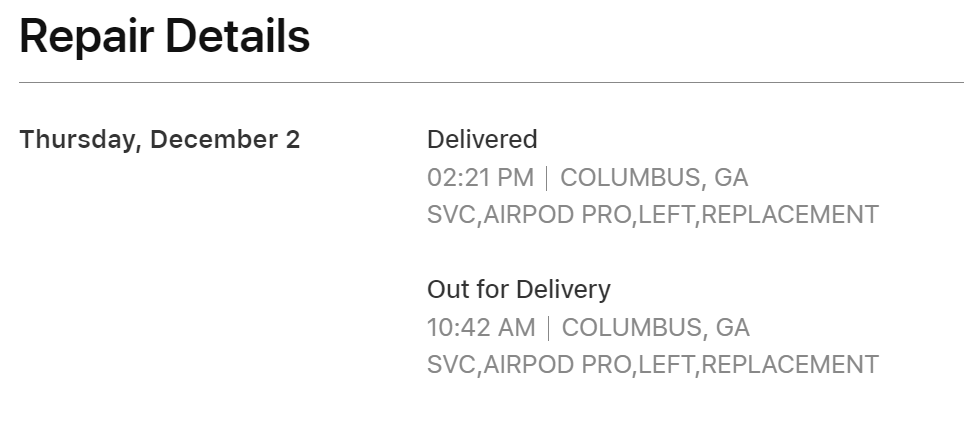 December 9
Nothing has arrived from Apple, get concerned. Contact Apple, determine that Apple did not ship a replacement case as promised. Instead, Apple shipped an empty return box for me to return my case first then get a replacement case. But they shipped the empty return box to the incorrect address.
Several chat and phone agents later, Apple determines I will need to ship in AirPods Pro case and buds this time. No express replacement is available unless I pay an additional for AppleCare+. They will ship an empty return box for me to send off my AirPods Pro, then wait for them to return.
December 14
Send detailed DM to @AppleSupport about situation. Never receive a response.
December 15
Empty return box for me to return AirPods Pro arrives.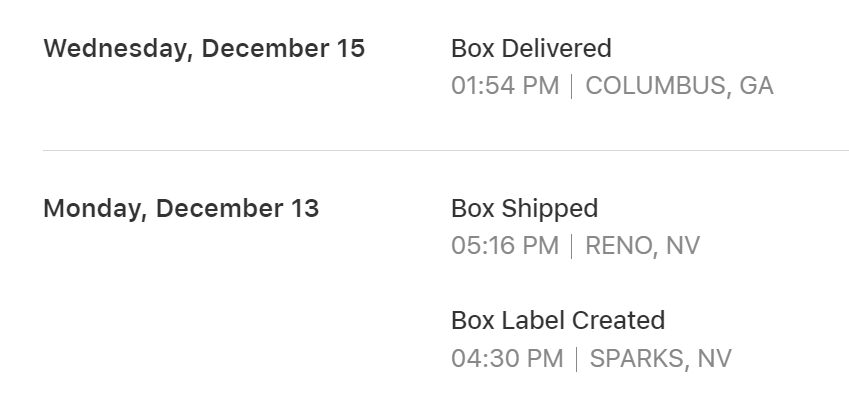 December 18
Take AirPods Pro box to a FedEx location as pickup is not available from Apple.
December 23
Call to see if Apple has received AirPods Pro, as no updated information is available on the Apple Support website.  Get told it was received, the website and repairs are behind.
December 25
Get e-mail that my product is being returned without being repaired.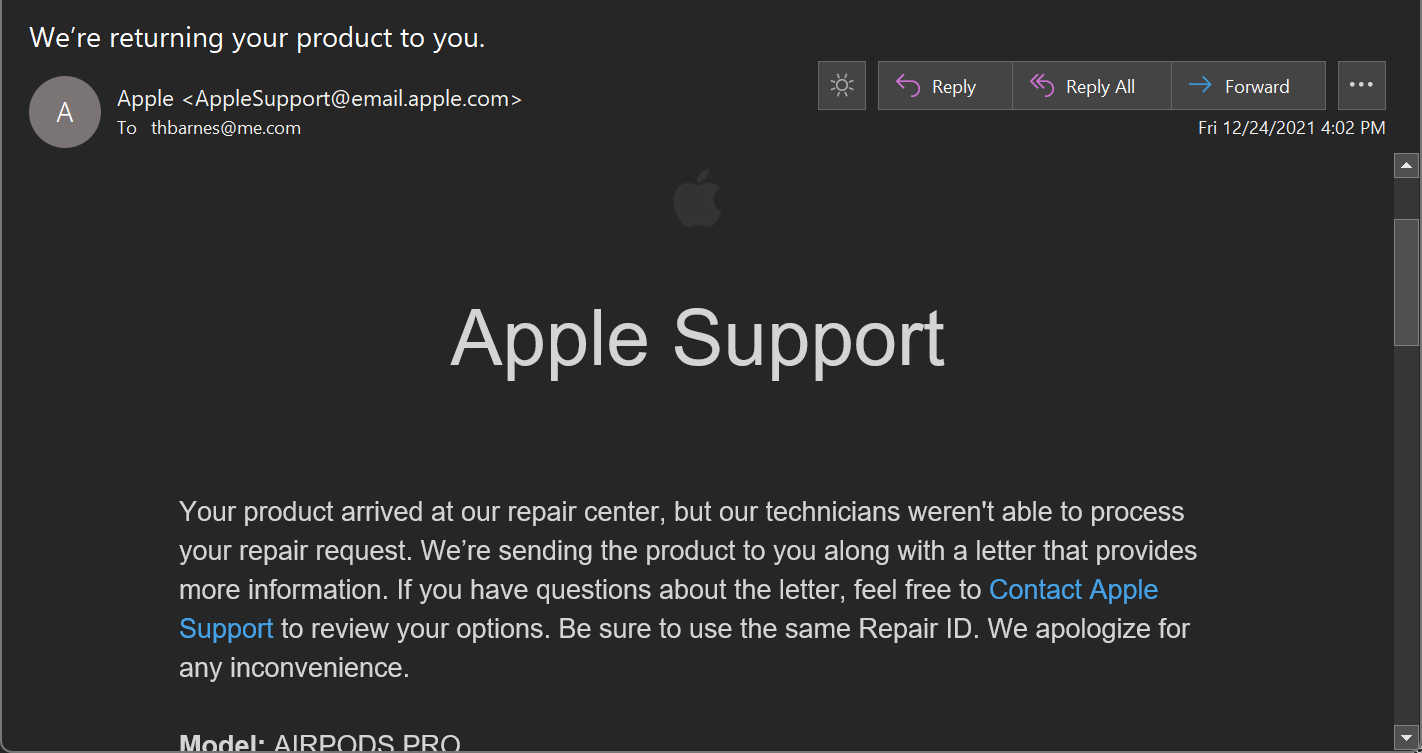 I open a support chat to ask why. Chat agent cannot find repair or tell me why, schedules a phone call.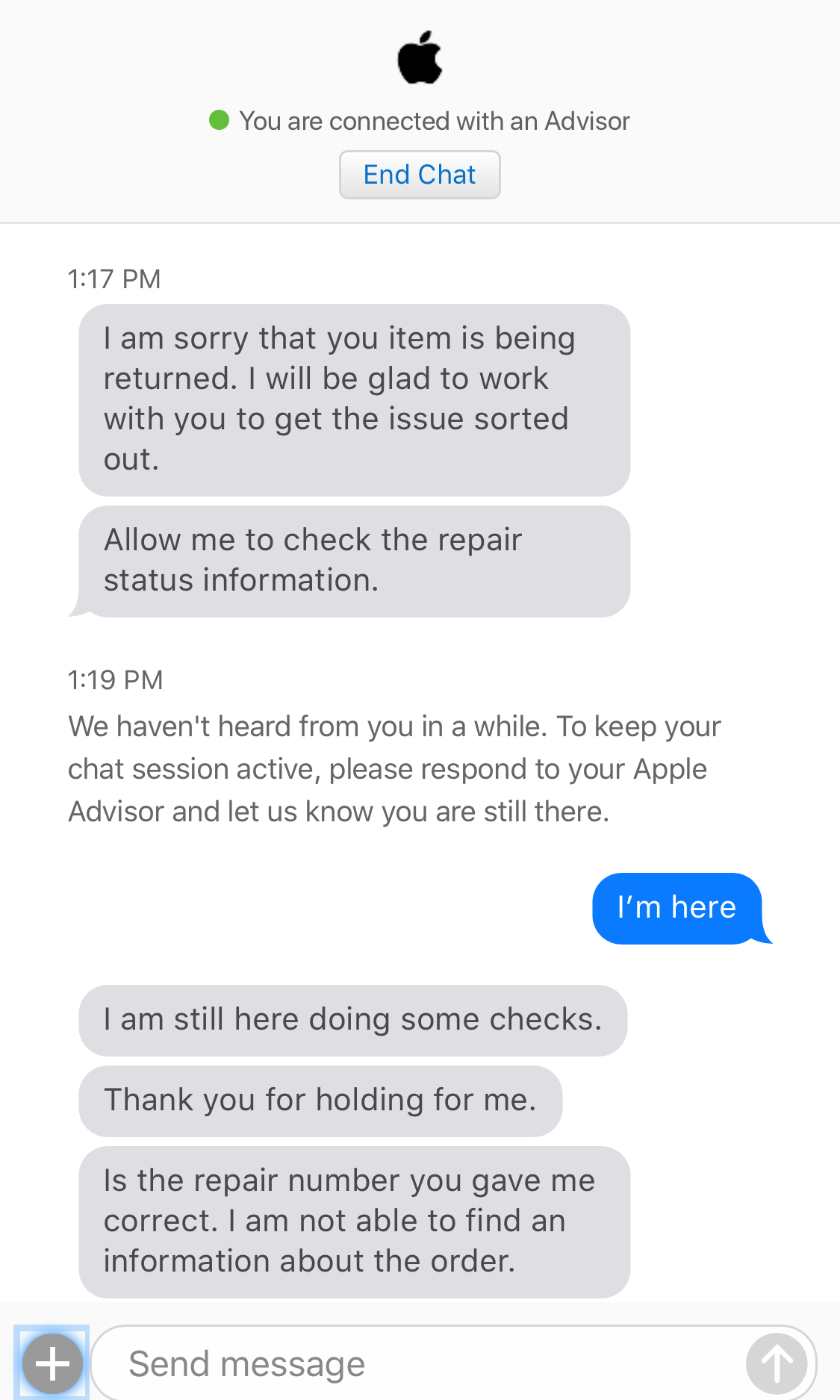 Receive phone call, explain would like to know why product is being returned without being repaired. Phone agent then says he will transfer me to the department that handles that. About five minutes later I hear a message that the department is closed and the call disconnects.
Call back.
Next phone agent explains that the technicians were unable to duplicate the issue, he has no further information. A letter would explain more.
December 27
AirPods Pro arrive with a note that technicians were unable to reproduce the issue, no details. They do work now though. So all the troubleshooting we did for hours on chat and phone with Apple did not fix it. There was something else apparently that could be done that would make them work, but I don't know what it is, nor is it properly documented or agents trained on what it is.
Unfortunately the AirPods Pro arrived missing the medium sized ear tips. This required yet another phone call to Apple Support to request a replacement, about 30 minutes while the agent figured out how to order them for me without charging me.
December 31
Replacement medium ear tips arrive.